IPO FRENZY and Your Home Buying and Selling Strategy
By now you've read the IPO frenzy headlines reporting that Bay Area home prices could experience as much as a 50-100% increase following the impending IPOs for Lyft, Uber, Slack, and others. Articles like this one in The New York Times have taken on an alarmist tone which has many people feeling either the anxiousness of being able to buy or the anticipation of selling at an unimaginable price.

So, what does IPO mean for you?
Be INFORMED. Be PREPARED. Make an OFFER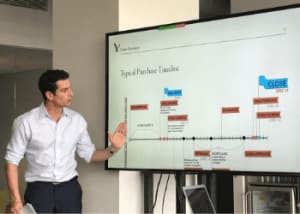 Recently, I participated with First Republic Bank in a panel discussion at Collective Health on understanding the process of buying a home. It's impressive that companies like this commit to educating their team on long-term financial planning – including residential real estate.

The biggest takeaway for me was the need to educate the emerging buyer. This buyer is at the heart of both anxiety and anticipation when it comes to the aforementioned IPO frenzy. While many people shared that their home search relies on technology, most everyone agreed they didn't understand the process of buying a home.

Finding a property is exciting but being informed about each step of the home buying process is what will prepare you for writing a compelling offer.

For example, as a buyer, it's imperative to have your financing sorted upfront and to be clear and specific about your housing needs and desired neighborhoods. Our goal is to make sure you're prepared to write a competitive offer when the right home hits the market.
Here are three considerations to help you get ready for buying:
What is Your Credit Score?
How Much Money Will Put Down?
Property Type and Location
There are many online tools to help inform you but relying on an expert agent to help guide you through the process will relieve the stress of getting yourself prepared.

As a seller, your success is dependent on a robust, and well-executed, go-to-market strategy to maximize your return on investment. Your agent should assess and answer questions like:
Should your home be staged?
Do you need to update your kitchen & bathrooms? Your hardware, plumbing, or lighting fixtures?
Should you paint the interiors/exterior walls?
Find an experienced agent who will manage the process whether you are buying or selling.

We are tracking the IPO frenzy and will provide keen insight on how we feel it will impact the market. For know, our opinion is: Keep calm and carry on. If we step back and look at historical data we see that there is no reason to panic, and every reason to reiterate: be prepared.

We believe that current home prices in the San Francisco Bay Area already account for the anticipated IPOs. While we expect growth of the local housing market to remain neutral to positive over the next few years, we do not foresee the explosive double-digit appreciation seen from 2012-2015. Nationally, a housing correction could depress prices, but here in the Bay Area, we believe that IPO money will buoy and steady the local market.

Client care is a priority for us and it begins before the first meeting. Share a question with us on Facebook or IG or email us.